Routine Training Workshops
Microscopy workshops are held on demand approximately twice a month for big confocal systems.  If you wish to be trained on a particular instrument, contact dcarter@ucr.edu explaining your need and availability.  Then the workshop will be scheduled, and advertised on the iigbreservation booking site in case other users wish to join us.  When a user is formally trained, their access is then switched on in the booking system, so they can reserve that resource.  Smaller systems have open booking, so anyone with access to the booking site can reserve and use them.  However, it is often easier to learn how to use a system by demonstration, so feel free to set up a time for individual help.  In this case, you will need to book and pay for the instrument time, but the training comes at no extra charge.  Booking cost may be waived if a group is all being trained together.
Zeiss 880 Airyscan Fast training can be scheduled at about a week's notice and now covers both the inverted and upright systems.  A full morning of powerpoint and demonstration in Keen 1002 is followed by users trying their own samples in the afternoon.  Contact dcarter@ucr.edu to reserve a space (limit 6).
Leica SP5 confocal training is typically scheduled more than two weeks in advance owing to the high popularity of this instrument.  It takes a whole morning, starting at 9am in Keen Hall room 1007.  No limit but please also register.
Example Image
This 3D rendering mode in the Zeiss Zen software can make data really pop.  The SFP shadowing works best projected onto a neutral background.  For dense data sets, a thresholding can reduce the number of dim pixels in the rendering to leave better gaps for the shadows to form.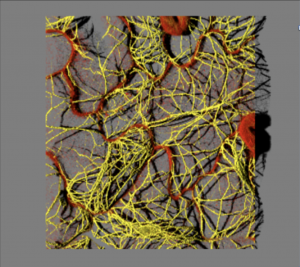 Technology Demonstrations
The Microscopy Core Facility is an excellent venue for vendor demonstrations.  Several times per year, new instruments are exhibited in Keen Hall 1007, often with ample opportunity to run your own samples and thoroughly evaluate the benefits and limitations of an instrument.  Please make good use of these demonstrations, so we can keep ourselves informed about the instrumentation marketplace, and prioritize future instrument acquisitions.  For example, the Keyence BZ-X710 all-in-one microscope was so well regarded during a 2016 demonstration, that we purchased the instrument in January 2017.  We have had recent demonstrations of the Thermo CX-7 high content imager, EVOS monitor microscope, and iBRIGHT gel imaging system.  A demonstration of the  Hitachi TM-4000 environmental SEM is scheduled for June 14 11am to 4pm; and the Leica SP8 time resolved confocal will be scheduled in the summer of 2018.
Hitachi TM-4000 Environmental Scanning Electron Microscope
On July 12 2018 we had a hugely successful demonstration of this new version of our own TM-1000.  The new, smaller instrument is about ten times higher resolution and has over thirty different imaging modes rather than just one, but still lists at less than $90k.  An optical view finder and motorized stage make navigation much simpler, vastly improving sample throughput and ease of use.  We had a hectic tag-team of users from sixteen labs and were able to collect eighty high quality images in a single afternoon.
Keyence VHX-6000 profiling microscope will be back Wednesday April 25 all morning, in Keen 1007.  This is a very fast full-color wand-type stereo microscope, which can collect stunning 3D rendered surfaces of live specimens and can tile together larger samples up to 100mm.  We will see if it can also do fluorescence.  Bring samples.  No limit on numbers and I might bring cookies.